Get started
To get started, click the orange 'Get Started' button on the top of the screen.
STEP 1 - Start e-invoicing

Enter the email address which you want to use to log in to Promis and verify that you are not a robot by ticking reCAPTCHA.

STEP 2 - Connect accounting package

Select the accounting package that you use. If your accounting package does not appear in the logos displayed then use the drop-down arrow to select your accounting software type.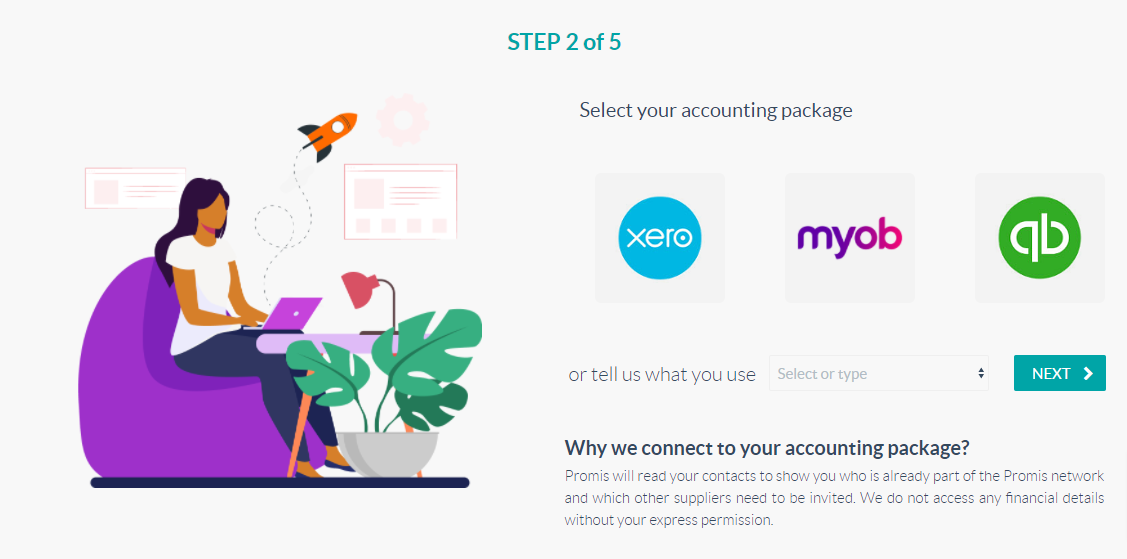 You will then need to log into your accounting package so that we can connect it to Promis. This is an example using the accounting package called Xero.

Your accounting software will guide you through the step(s) required to connect to Promis.
Your accounting software will redirect you to Promis where you will select the appropriate company file using the dropdown. Once done you have now connected your accounting software to Promis. Now onto step 3....

STEP 3 - Create your account with Promis

This will be the email address and password that you will use to log in to Promis as well as providing a contact name for our records.

Promis will populate this form with information from your accounting software.

If the ABN is missing you will need to provide it here as Promis uses the ABN to identify your e-invoicing entity. You will also need to fill in your address details if we do not locate them in your accounting software.

STEP 5 - Select bank account for payment

Use the drop-downs to select the appropriate bank account. These will be listed as they are in your accounting software.

If you cannot see any accounts hit the 'refresh' icon and Promis will pull the information from your accounitng software.
STEP 6 - Verify your email address

For security reasons we need to verify that you are who you say you are. An email will be in your inbox where you click on a link to verify that email address.

If you cannot see an email in your inbox you can send a new one from Promis.
You're done!

You have now set up your Promis account and are ready to start e-invoicing.

On your dashboard will be an invoice for the annual Promis fee. You have 30 days free trial first so no need to pay it immediately!